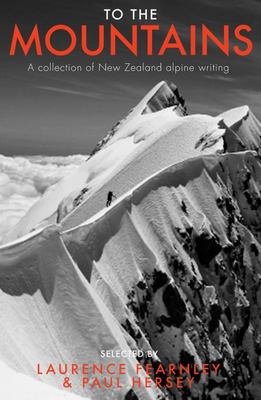 $50.00
NZD
Category: Mountains
This stylish and affordable hardback is an exciting compendium of adventure and nature writing, history, philosophy and literature, from the quirky to the sublime. Aimed at real mountaineers as well as the armchair variety.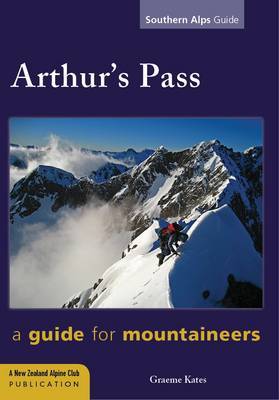 $40.00
NZD
Category: Mountains
The Mountain ranges of Arthur's Pass National Park are the most accessible in New Zealand, being located aside the main road/rail corridor traversing the Southern Alps between Christchurch and the West Coast. Terrain within the park varies considerably from low scree hills to heavily glaciated peaks and steep face routes. Climbing within Arthur's Pass National Park could be considered to epitomise all that is mountaineering, with the 'approach' forming a substantial component of the actual climb, and the luxury of aircraft being appealingly devoid from the park. This guide covers broadly an outline of the standard routes on the peaks of both the National Park and the adjacent Craigieburn Forest Park. Additional sections on huts, history, alpine rock, ski touring and potential ice climbs create an invaluable resource for any climber visiting the region. ...Show more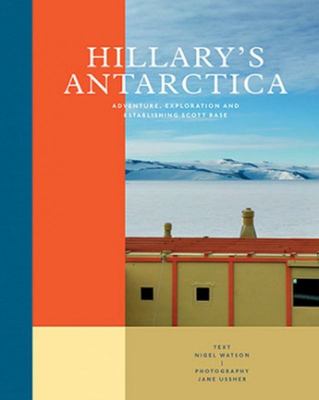 $50.00
NZD
Category: Mountains
Beautifully illustrated with Jane Ussher's photographs of the hut restoration in Antarctica, plus historic images and never-before-seen ephemera and diary entries, this is a treasure. Sir Edmund and New Zealand were supposed to be a support act to the British Commonwealth Antarctic crossing party. By he ading on to the South Pole and reaching it before the crossing party, Hillary exceeded the brief. His actions created tensions, unleashed a media storm, and denied the British a historic first overland to the South Pole since Captain Scott. Hillary even had the audacity to achieve the feat with three farm tractors. Nevertheless, in doing so, Sir Ed Hillary added another fascinating chapter to the exploration annals of Antarctica and he, and his expedition team, laid the foundations for New Zealand's continuous, and increasingly important, presence in Antarctica. ...Show more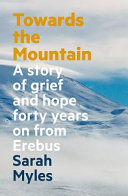 $40.00
NZD
Category: Mountains
Marking the 40th anniversary of the Erebus disaster, this is the first book on that tragedy written by one of the affected families.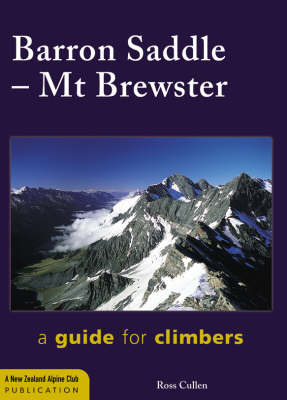 $35.00
NZD
Category: Mountains
This comprehensive guide covers the ranges between the Haast Pass and Mount Cook. The valleys covered include the Hopkins and Huxley, the Landsborough, and other West Coast valleys north of Haast Pass. The ranges covered offer many fine rock and snow climbs on peaks slightly lower and less glaciated tha n those at Mount Cook, though there are also many climbs of a technical nature. The mountainous region between Mount Cook National Park and Haast Pass contains some superb alpine country. Its delights include major rivers, tussock covered valleys, attractive forest, and five mountain ranges including the Main Divide with peaks reaching up to the high point of 2746m altitude. The valleys are popular tramping regions but fewer climbers visit the area, perhaps because all the prominent peaks have now been climbed, the rock is typically of moderate to poor quality, and none of the peaks reach the magic hight of 3000m. However for those who appreciate superb river, bush, rock and snow vistas, are tired of moraine bashing, and enjoy the chance to tackle peaks of moderate altitude and difficulty, the region continues to charm. Thoughtful climbers who enjoy some research can continue to find unclimbed routes on the ridges and faces of the major peaks. Twenty-three peaks in the region reach 2500m or more in altitude and provide an array of climbing experiences ranging from highly accessable Glentanner Peak to isolated Mount Strachan, from ice glacier covered Mount Dechen to rock glacier flanked Dun Fiunary Peak. from gendarme-like Black Tower Peak to massive Mount Hooker. A total of over 280 routes are listed in this guidebook, and are an indication of the range of climbing opportunities provided by this area. While many of the earlier ascents involved traverses of often delicate ridges, the greatest potential for new routes may be in face climbs which have been overlooked until now. This guide also includes the Hopkins and Huxley, the Landsborough, and the West Coast valleys north of the Haast Pass. The ranges covered offer many fine climbs on peaks that are slightly lower and less glaciated than those in Mount Cook Park. ...Show more

$60.00
NZD
Category: Mountains
Geoff Spearpoint is a legend among New Zealand¿s tramping and mountaineering community. For over 50 years he has been undertaking many long, adventurous trips in the Southern Alps every year, decade after decade. These trips, usually a mix of both tramping and mountaineering, have made Spearpoint New Ze aland¿s foremost exponent of what is best described as trans-alpine tramping. In the Great Unknown he collects together personal accounts of his favourite trips into 15 geographical areas, ranging from Kahurangi in the north to the Fiordland in the south. Illustrated with his stunning photography, and with maps from Geographx, this will be a completely unique book that trampers and mountaineers will cherish, for it explores an important element of New Zealand tramping that goes to the heart of how we define our relationship with backcountry. ...Show more
$28.00
NZD
Category: Mountains
Unabridged! When Jon Krakauer reached the summit of Mt. Everest in the early afternoon of May 10, 1996, he hadn't slept in fifty-seven hours and was reeling from the brain-altering affects of oxygen deprivation. As he turned to begin his long, dangerous decent from 29,028 feet, twenty other climbers wer e still pushing doggedly toward the top. No one had noticed that the sky had begun to fill with clouds. Six hours later and 3,000 feet lower, as the storm swept the peek with seventy-knot winds and blinding snow, Krakauer collapsed in his tent, freezing, hallucinating from exhaustion and hypoxia, but safe. The following morning he awakened to learn that six of his companions hadn't made it back to their camp, and were in a desperate struggle for their lives. When the storm finally passed, five of his fellow climbers would be dead, and the sixth so horribly frostbitten that he would have to have his right hand amputated. By the time all expeditions had quit the mountain and departed Nepal, twelve people had perished on the slopes of Everest. Into Thin Airis the definitive, personal account of the deadliest season in the history of Everest by the acclaimed journalist and author ofEiger DreamsandInto the Wild.On assignment fromOutsidemagazine, Krakauer, an accomplished climber, went to the Himalayas to report the growing commercialization of the planet's highest mountain. Everest has always been a dangerous mountain. From the first British expeditions in the 1920s until 1996, one climber has died for every four who have attained the summit.  This shocking death toll has not put a damper on the burgeoning business of guided ascents, however, in which amateur alpinists with alarmingly disparate skills are ushered up the mountain for a $65,000 fee. To ascend into the thin, frigid air above 26,000 feet--the cruising altitude of a commercial jetliner--is an inherently inrrational act. The environment is unimaginably harsh, the margin for error minuscule. Krakauer examines  what it is about Evereest that has compelled so many people--including himself--to throw caution to the wind, ignore the concerns of loved ones, and willingly subject themselves to such risk, hardship, and expense. Written with emotional clarity and supported by his unimpeachable reporting, Krakauer's frank eyewitness account of what happened on the roof of the world is a singular achievement. ...Show more
Items per page:
1 - 10 of 10