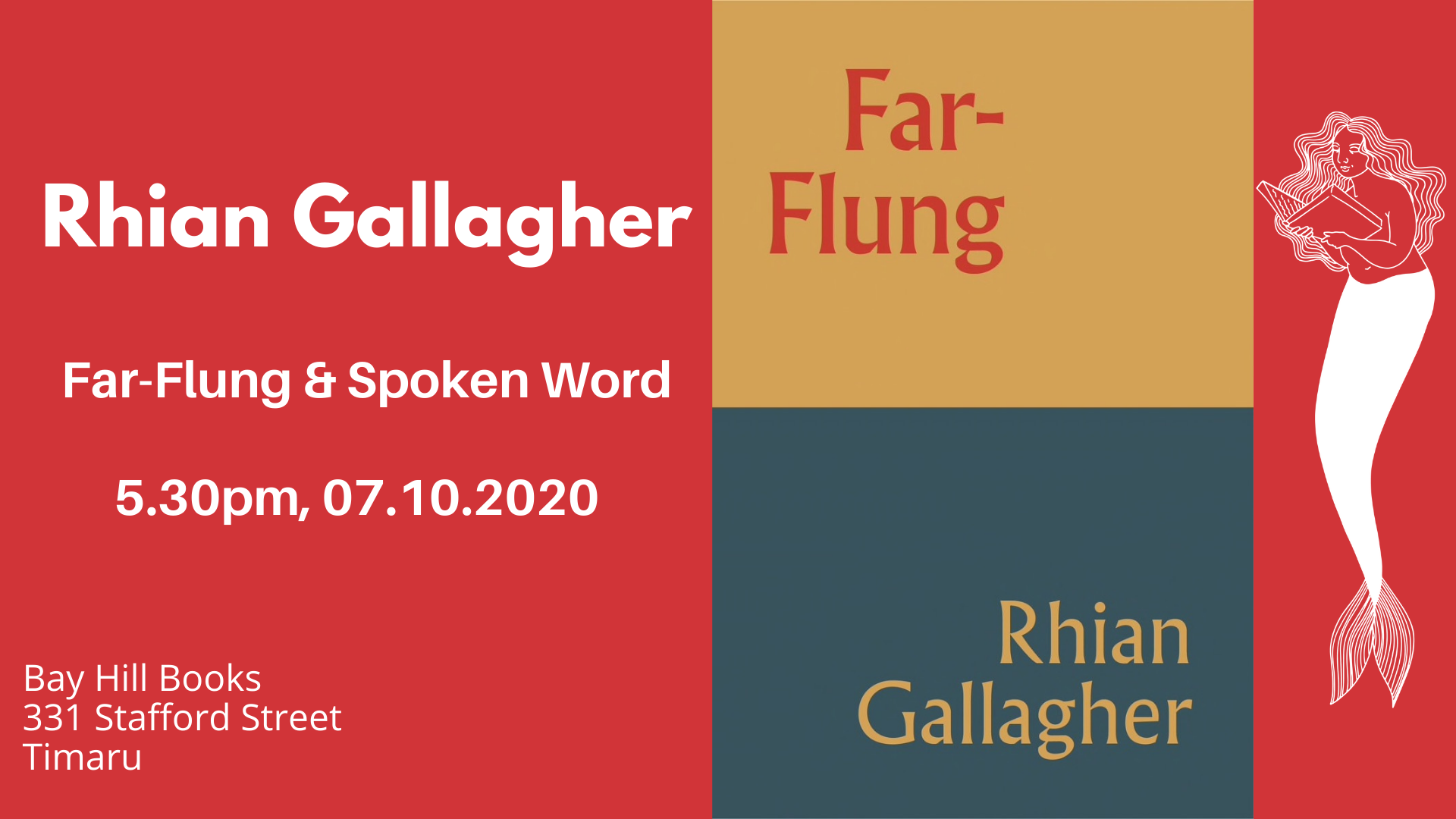 Wednesday 7 October, 25.30pm,
Bay Hill Books, 331 Stafford Street
About the event:
Rhian Gallagher, poet and author of Far-Flung, a new collection of poetry published by Auckland University Press, will read from her new poetry collection in the bookshop. Following the reading, there will be an opportunity for discussion and a chance to share your own poetry to the audience in an encore Spoken Word event.
About the book:
Far-Flung is anew collection of poems in conversation with the natural world and our shared histories. Far-Flung traverses multiple terrains – home and upheaval, our connection to the environment and to people, our relation to the past, place and placelessness.
From 'the Kilmog slumping seaward' to 'the bracts and the berries and the leaves' of the Mackenzie country; the moth ('courier of bloom powder'); the wind that grows like an animal and 'the great loneliness / of grass' – Gallagher is in conversation with the natural world. Her lyric poems, marked by attentiveness, have an earthy, intuitive music and a linguistic clarity.
Gallagher moves easily from the ecological and personal concerns of contemporary life to the nineteenth-century Irish migrants and the historic legacy of the Seacliff Lunatic Asylum. The multi-voiced, dramatic sequence 'Seacliff Epistles' draws on a rich variety of poetic forms: from lyric to prose poem, parable to riddle, monologue and letter poem.
Bill Manhire called Rhian Gallagher's poetry 'one of the quiet, astonishing secrets of New Zealand writing'. Far-Flung sees the poet's lyric exploration broaden considerably in an assured new work.
About the author:
Rhian Gallagher's first poetry book Salt Water Creek (Enitharmon Press, 2003) was shortlisted for the Forward Prize for First Collection. In 2007 Gallagher won a Canterbury History Foundation Award, which led to the publication of her book Feeling for Daylight: The Photographs of Jack Adamson (South Canterbury Museum, 2010). She also received the 2008 Janet Frame Literary Trust Award. Gallagher's Shift (AUP, 2011) won the 2012 New Zealand Post Book Award for Poetry. In 2018, she held the University of Otago Robert Burns Fellowship.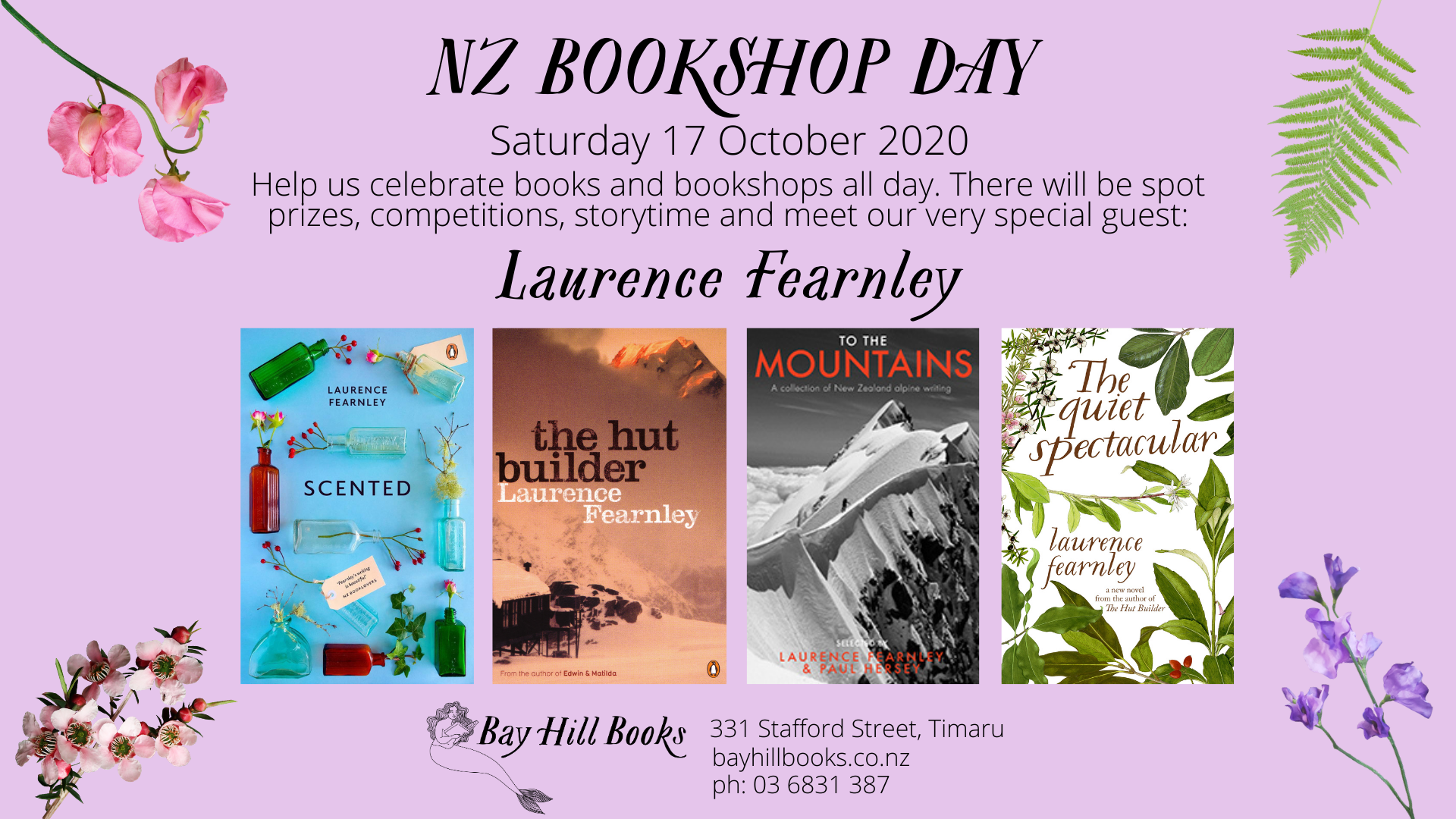 New Zealand Bookshop Day, Saturday 17 October, all day long
Bay Hill Books, 331 Stafford Street
About the event:
Join us in Bay Hill Books to celebrate NZ Bookshop Day - all day for and about all the amazing bookshops in New Zealand. We'll have competitions, spot prizes, cake and tea all day long, and a very special guest, Laurence Fearnley, coming to read from her books, answer questions and sign your books.
About the author:
Laurence Fearnley is an award-winning novelist. Her novel The Hut Builder won the fiction category of the 2011 NZ Post Book Awards and was shortlisted for the international 2010 Boardman Tasker Prize for mountain writing. Her 2014 novel Reach was longlisted for the Ockham New Zealand Book Awards, Edwin and Matilda was runner-up in the 2008 Montana New Zealand Book Awards and her second novel, Room, was shortlisted for the 2001 Montana Book Awards. In 2017 she was the joint winner of the Landfall essay competition and in 2016 she won the NZSA/ Janet Frame Memorial Award. In 2004 Fearnley was awarded the Artists to Antarctica Fellowship and in 2007 the Robert Burns Fellowship at the University of Otago. In 2019 she was awarded the Arts Foundation Laureate for literature. Laurence Fearnley lives in Dunedin with her husband and son.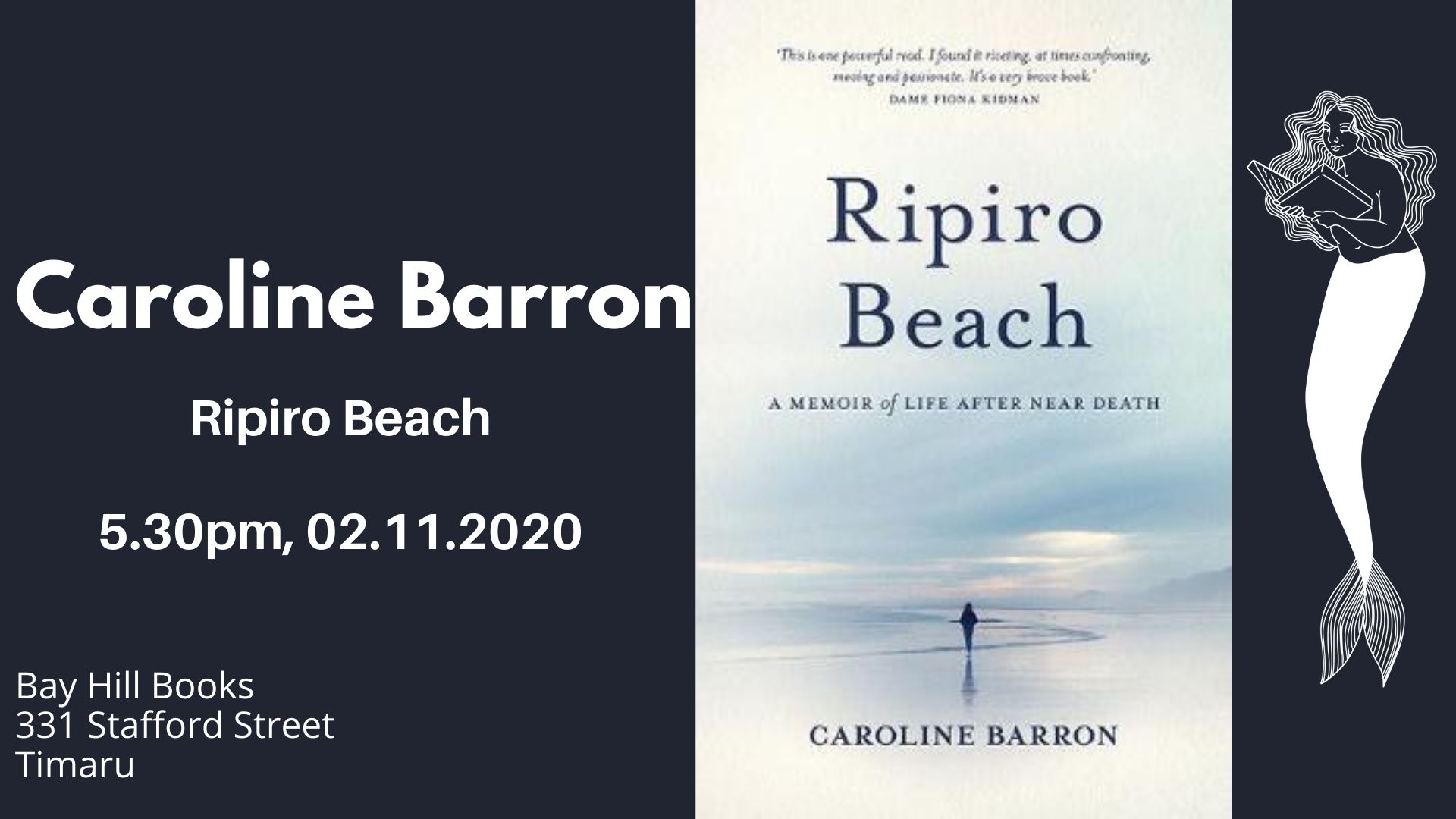 Monday 2 November , 5.30pm,
Bay Hill Books, 331 Stafford Street
About the event
Caroline Barron, author of Ripiro Beach, will join us in the bookshop to read from her memoir and talk about her new book. Following the reading, there will be an opportunity for discussion and a chance to have your book signed.
About the book
Ripiro beach was published in June 2020.
Does DNA write our destinies? Or do the hands that nurture triumph over nature? What is it that determines who we really are?
Caroline Barron's father never found his birth mother. After he dies suddenly on her twentieth birthday, Caroline develops an insidious fear of her own untimely death. When she nearly bleeds out on an operating table during childbirth, it almost seems her greatest fear is justified.
Emerging from the experience a changed woman, Caroline spends the next six years poring over her family history in an attempt to make sense of her inexplicable rage. The family secrets she unearths threaten to destabilise her identity and carefully built life, eventually leading her to Northland's rugged Ripiro Beach, where past and present dramatically collide.
Ripiro Beach is a beautifully written, relentlessly honest memoir about one woman's determination to gather the threads of a life that has come undone.
About the author
Caroline Barron is an award-winning writer, manuscript assessor, book reviewer, columnist, and board member of the Michael King Writers Centre. She holds a Masters in Creative Writing from the University of Auckland (2015) and, in a previous life, owned and managed Nova, a leading model and talent agency. Caroline resides between Auckland's Point Chevalier and Northland's Ripiro (Baylys) Beach, with her husband and two young daughters.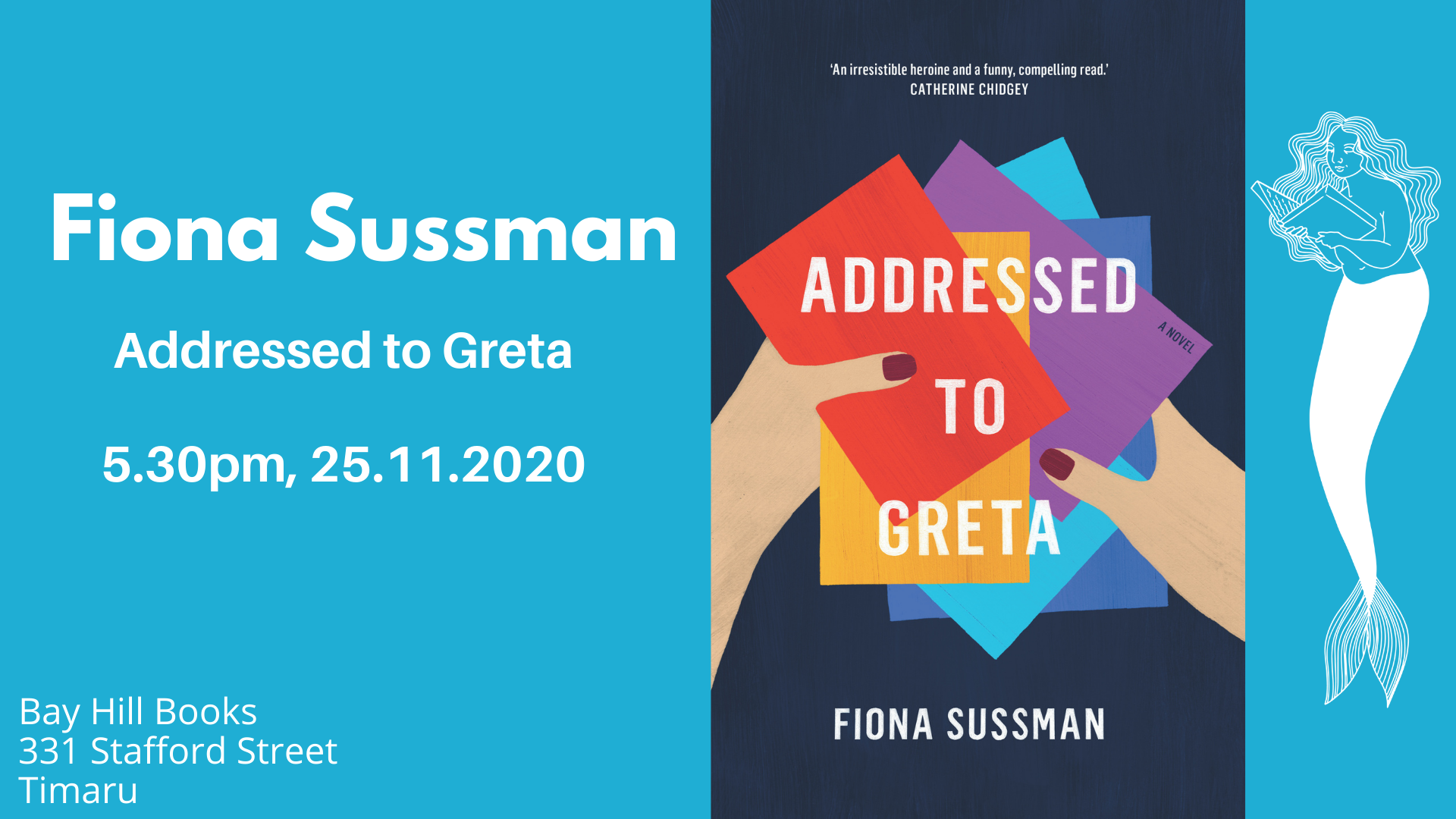 Monday 2 November , 5.30pm,
Bay Hill Books, 331 Stafford Street
About the event
Fiona Sussman, author of Addressed to Greta, will join us in the bookshop to read from her new book. Following the reading, there will be an opportunity for discussion and a chance to have your book signed.
About the book
Greta Jellings lives a small life. No expectation, no disappointment had been her mother's mantra. It serves Greta well now too. At 30-something years of age she has spent her life pleasing others; working for the past 22 years in a pool-chemicals shop just one of the many compromises she's had to make. She has embarrassingly big feet and a pet chicken named Marilyn Monroe, but who is she really? Even Greta has no idea.
So, when she receives a call from a lawyer acting on behalf of her dear friend Walter, Greta finds herself presented with a terrifying, though compelling, opportunity. Walter's bequest, sees Greta embark on a mystery journey, each destination revealed in a letter on the eve of her departure. ADDRESSED TO GRETA is a captivating novel about a woman learning how to express her true self. It is an important story about finding the courage to be seen, and a testament to the transformative power of friendship.
About the author
Growing up in a publisher's home in South Africa meant that Fiona fell in love with language and the written word at an early age. This was during the apartheid era, and witnessing the brutal regime at work sensitised Fiona to the issues of injustice and racial prejudice – experiences which would inform much of her early writing.
After school, Fiona completed a BA in English Literature at the University of the Witwatersrand; however, the untimely death of her father from a terminal illness saw me change direction and pursue a career in medicine.
In 1989 Fiona emigrated from South Africa to New Zealand, where she completed my medical degree and went on to work as a family doctor.
While FIona found practising medicine immensely satisfying, she still hankered after the literary world of my childhood. Finally, the call to write became too great. She hung up my stethoscope, returned to university to do a Master of Creative Writing and began to write in earnest.
Fiona lives in Auckland with her family and pet boxer dog/ loyal writing companion/ chief distractor! Her days are spent writing, speaking at events, mentoring writing students, and assisting in the management of Auckland's charity hospital – a charitable surgical service she and her husband established to help those who have fallen between the cracks in our health system.